safer, more comfortable, and more effective
Advanced Dental Technology
The dental technology that Dr. Giraldo and our team at Brilliant Smiles Of Hollywood uses has a substantial effect on your treatment outcome. We use state-of-the-art dental technology to benefit our patients. As a result, our patients experience dental care that is safer, more reliable, more comfortable, and much more effective.
Some of the dental technology at our Hollywood office includes digital x-rays, intraoral scans, CBCT scanner, and dental lasers, which allows us to perform dental procedures with the highest accuracy and precision.
Digital X-Rays
Digital X-rays enable us to look at what is going on between teeth and under the gums with higher quality images that we can show on a monitor to patients during their visits to treat and educate. One of the best benefits of digital X-rays is they are much safer, with 90 percent less radiation than film X-rays.
Intraoral Scanner Camera
Intraoral scanners are a critical component of our dental practice allowing for more precise restorations and a better patient experience by decreasing chair-time and the overall number of visits. The best part is no more messy, bad-tasting, and uncomfortable traditional impressions of your teeth.
CBCT Scanner
CBCT 3-D imaging allows Dr. Giraldo to examine and outline treatment plans such as dental implant placement, bone grafting, and other complicated procedures. These scans give us an accurate, in-depth look at your teeth, jawbone, jaw joints, sinuses, and surrounding nerves that help him carefully plan for oral surgery procedures.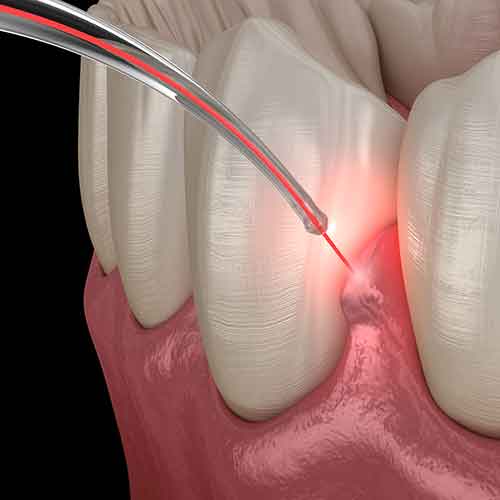 Laser Dentistry
We use dental lasers combining light and heat into a pinpoint for a broad range of procedures, including gum contouring, periodontal treatment, and additional types of oral surgery procedures, making these procedures more efficient and accelerating the healing process.