General Dentistry in Hollywood FL
At Brilliant Smiles of Hollywood, we specialize in providing general dental services to people of all ages in Hollywood, FL. Dr. Giraldo and his team are here to help you keep your smile beautiful and healthy.
Keep Your Teeth Healthy and Strong
General Dental Procedures
We make it our purpose at Brilliant Smiles of Hollywood to provide exceptional dental care to every Hollywood, FL patient so that you can maintain your dental wellness throughout your life. We take great pride in delivering the most suitable treatment customized to each patient's individual needs to avoid more severe problems that can develop over time and require additional, more expensive, and more complex treatments in the future. Our general dentistry treatments include emergency dental care, fillings, wisdom tooth extractions, root canals, oral surgery, and gum disease treatments.
Emergency Dental Care
Do you have a toothache, broken tooth crown, or filling? Brilliant Smiles of Hollywood is your emergency dentist near you in Hollywood, FL. We are here to help ease your pain in any dental emergency.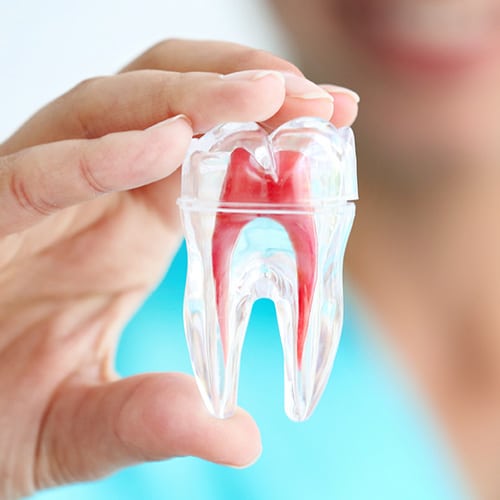 Root Canals
Dr. Giraldo uses the latest technologies and pain-free treatment options to decrease your discomfort and fear of the dentist. After completing your root canal with a permanent crown, you'll have a nice, healthy, and natural-looking smile.
Oral Surgery Tooth Extractions
If your tooth is aching from infection, decay, or disease, you may need to have the tooth removed. At Brilliant Smiles of Hollywood, we offer common and surgical tooth extractions to alleviate pain and restore dental health.
Wisdom Tooth Removal
At Brilliant Smiles of Hollywood, we use state-of-the-art technology to assess your risk of wisdom tooth problems and provide skillful wisdom teeth extractions. Don't let your wisdom teeth cause you pain or affect your health!
Gum Disease Treatment
Nobody should have to live with the discomfort and complications caused by gum disease. Our treatments at Brilliant Smiles of Hollywood are minimally invasive and effective at treating and healing gum diseases.
Composite Tooth Fillings
With non-toxic tooth colored composite fillings, nobody will be able to tell you've had a filling! Our composite fillings are a functional and attractive cosmetic dental treatment that really makes a difference in your smile and will last for years.
Are You Looking For a General Dentist Near You?
We are committed to helping you fix and maintain your teeth and offer convenient appointments for all of your restorative dentistry needs. Call us today at (954) 920-2751
General Dentist
Meet Dr. Juan Carlos Giraldo D.M.D
Learn why Dr. Giraldo is a leader in General dentistry treatments and procedures in Hollywood, FL and how he can help you get renewed confidence in your smile with precise artistry, quality, personalization, and expert general dental care.
Our Promise To You
Why Choose Brilliant Smiles of Hollywood for Your General Dental Needs
We know our patients have many options for receiving high-quality general dental care in the Hollywood, FL area, which is why our team is dedicated to providing our patients with the highest quality of dental care in a welcoming, safe, comfortable, and healthy atmosphere. We are here to serve your cosmetic dental needs every step of the way without judgment or shame you for having less than perfect teeth. Your visit will be a comfortable and positive experience, and we look forward to helping you avoid dental problems, enjoy an amazing natural smile, and the lifelong benefits of good oral health.
Patient Reviews
What Our Patients Say
There is a reason we are highly rated and trusted by our patients on Google, Facebook and Yelp.
